A veneer covers the front of a tooth to provide better contour and color. It may require minimal reduction of the enamel. There are two types:
Composite Veneers are less expensive and done chairside with tooth colored filling material. Their main disadvantage is the need to redo them some years later, as they can absorb stain and darken.
Porcelain Veneer is the same cost as a crown, and is a thin porcelain shell that is bonded onto the surface of the tooth. It will not discolor with time but can "pop off" as the cement ages and loses adherence. If it does pop off, and is not damaged, it can be re-cemented.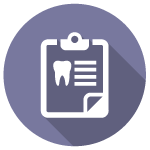 Click here to download, our New Patient Form which you can fill out prior to your visit. Feel free to call us with any questions you may have.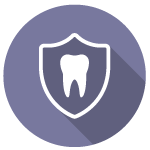 Click here to fill out, our secure and easy-to-use Online Dr. Referral Form. Feel free to call us with any questions you may have.
Visit our Frequently Asked Questions, Patient Testimonials, and Patient Information. You're always invited to contact us directly, with any question you may have!
Call today at 770.934.2339 or email us at info@orofacialcenter.com. We look forward to hearing from you!